15 décembre 2010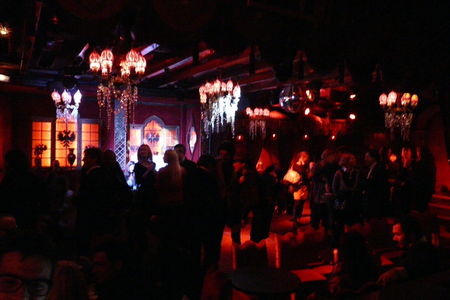 Jeudi dernier se tenait the last Nuit Slave by Kusmi Tea. Et pour finir l'année de la France en Russie, et inversement, en beauté mon équipe de communication préférée a eu la bonne idée de poser ses herbes magiques dans un cabaret parisien mythique: le Raspoutine. Je rêvais d'en fouler le sol depuis que j'étais en âge de le faire, aussi me suis-je préparée avec soin pour être digne de ce haut lieu folklorique.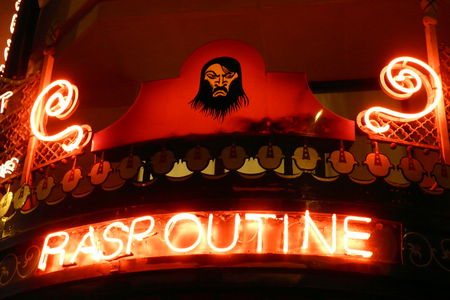 Toque en fausse fourrure H&M (j'ai pas trop les moyens d'investir dans la collection Automne-Hiver 2010/11 de Chanel), mon vieux -mais néanmoins fidèle- pull en cashmere Zadig&Voltaire, ma toute nouvelle jupe Manoush (bien inspirée par Manish Arora) et des boots fourrées... Ben oui, ils avaient même prévu la neige chez Kusmi ! Trop forts.
J'étais donc fin prête pour en découdre avec les nouvelles créations vodka-isées de mon barmaid préféré: Greg. Impassible, et toujours aussi fringuant dans son costume de russkof.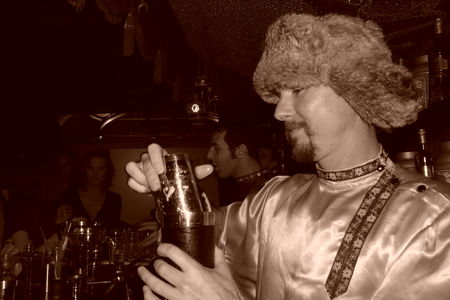 Danser jusqu'au bout de la nuit sur des rythmes endiablés à la Boney M.
Affronter les femmes à moustaches.
Manger des dizaines de petites cuillères remplies du délicieux caviar siglé Caviar Passion.
Papoter avec des célébrités prénommées Mouloud et Sonia Rolland.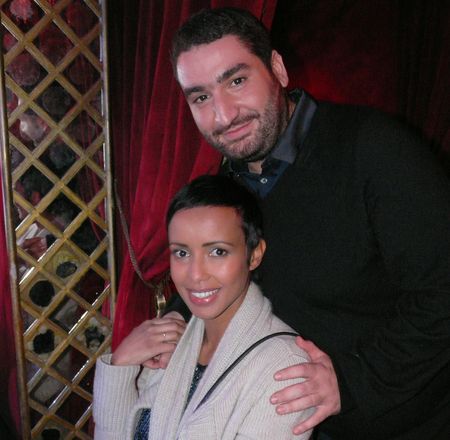 Et m'enivrer du décor somptueusement orchestré du lieu: alerte rouge sur l'ambiance chaleureuse, les toilettes Belle Epoque (très important les toilettes d'un établissement), les croquis de costumes tous plus fabuleux les uns que les autres, les murs de -fausse- fourrure, les poupées d'antan vous observant... Et, spécialement pour la soirée, une matriochka Kusmi Tea que je ne désespère pas de soudoyer !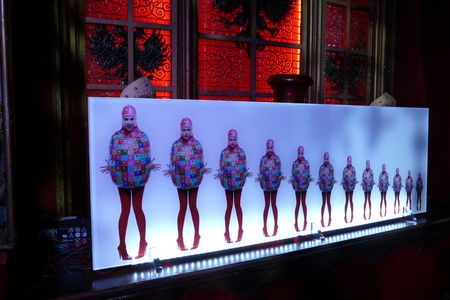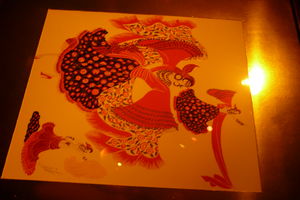 Quand Kusmi me fait tourner la tête, j'en redemande ! Comment ça c'était la dernière ?!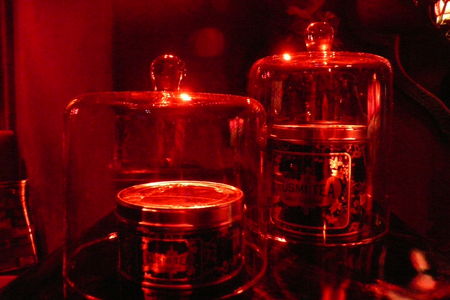 When Kusmi -fabulous- Tea invites me at Raspoutine, I was extatic. It's a place I've been dreamin' off for years. And hopefully, it was great: the style, the party, the people, everything. I loved it, as I loved my look for the BIG Russian day: H&M hat, Zadig&Voltaire sweater and Manoush skirt, with shinny and deep red lips. i could have flirt with Ra Ra Rapoutine, the lyrics of Boney M assure that he was a love machine...
There lived a certain man in Russia long ago
He was big and strong, in his eyes a flaming glow
Most people looked at him with terror and with fear
But to Moscow chicks he was such a lovely dear
He could preach the bible like a preacher
Full of ecstacy and fire
But he also was the kind of teacher
Women would desire

RA RA RASPUTIN
Lover of the Russian queen
There was a cat that really was gone
RA RA RASPUTIN
Russia's greatest love machine
It was a shame how he carried on

He ruled the Russian land and never mind the Czar
But the kasachok he danced really wunderbar
In all affairs of state he was the man to please
But he was real great when he had a girl to squeeze
For the queen he was no wheeler dealer
Though she'd heard the things he'd done
She believed he was a holy healer
Who would heal her son

RA RA RASPUTIN
Lover of the Russian queen
There was a cat that really was gone
RA RA RASPUTIN
Russia's greatest love machine
It was a shame how he carried on


But when his drinking and lusting and his hunger
For power became known to more and more people,
The demands to do something about this outrageous
Man became louder and louder.

"This man's just got to go!" declared his enemies
But the ladies begged "Don't you try to do it, please"
No doubt this Rasputin had lots of hidden charms
Though he was a brute they just fell into his arms
Then one night some men of higher standing
Set a trap, they're not to blame
"Come to visit us" they kept demanding
And he really came

RA RA RASPUTIN
Lover of the Russian queen
They put some poison into his wine
RA RA RASPUTIN
Russia's greatest love machine
He drank it all and he said "I feel fine"

RA RA RASPUTIN
Lover of the Russian queen
They didn't quit, they wanted his head
RA RA RASPUTIN
Russia's greatest love machine
And so they shot him till he was dead

Oh, those Russians…
Follow my blog with bloglovin
Commentaires
Poster un commentaire